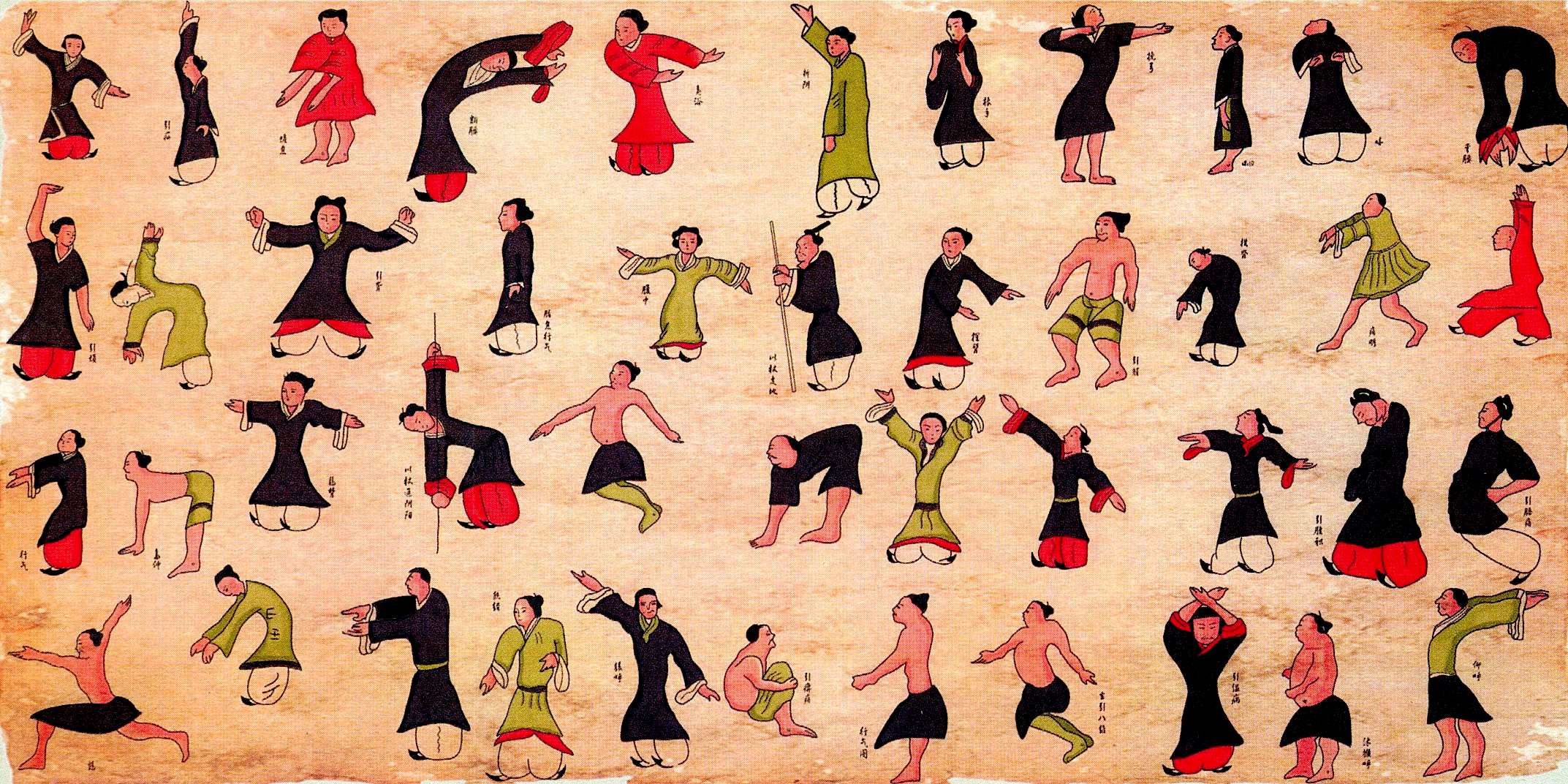 Painted scroll dating 168 BCE of ancient Tao Yin / Qi Gong exercises
Qi Gong (also spelt Qigong/Chi Kung/Chi Gung) translates from the Chinese as "energy work". Often there is a confusion in how to pronounce Qi Gong. The nearest pronunciation would be "Chee Goong".
Qi Gong is a collective term for movement exercises, breathing techniques, meditation and energy healing. Qi Gong has many of the attributes of Tai Chi (Taijiquan) and Hatha Yoga, but simplier and a lot easier to learn and practice. Exercises are like Tai Chi in style but practiced singularly and repetitively, but not so stretchy as Hatha Yoga and is done mainly standing up. This makes the exercises suitable for all ages and abilities. At the end of the session seated meditation is practiced focusing on the breath and mental calmness.
Dave also teaches Do-In exercises (Japanese term derived from the Chinese "Dao Yin", an early form of Qigong). In its modern form Do-In is a exercise system well known in Macrobiotic and Shiatsu circles, and consists of self-massage and acupressure, focused breath, and meridian stretching exercises similar to Yoga. Do-In exercises compliment Qigong and gives it extra dynamism, including emphasis of working energetically with the Five Transformations (also known as Elements or Phases) of Water, Wood, Fire, Earth and Metal.
Benefits of Qigong & Do-In exercises are:
Improved breathing

Readjustment of posture and biomechanics

Relaxation and improved state of mind

Cultivation of internal energy for health

More energy to do those things you wish to do in life

Stimulation of blood circulation and lymphatic drainage

No equipment or special clothing is necessary
IN PERSON CLASSES – SPRING TERM 2022
Qi Gong is now available at the MMI (Miners & Mechanics Institute) in St. Agnes on Wednesdays at 6.30pm to 7.30pm. Cost of each session is £8 per person per class.
The theme for 2022 is the 5 Chinese Elements of Water, Wood (Tree), Fire, Earth, and Metal. These qualities represent the cyclic nature of life and the seasons, and relate to the internal organs and our emotions. Working with the 5 Elements helps in balancing us physically, emotionally, energetically with our inner and outer environment. The term Element is a poor translation as these qualities are not static forms. A better description would be Phases or Dave's preferred term: Transformations.
Water – winter, north, hibernation, Kidneys, fear/wisdom
Wood (Tree) – spring, east, growth, Liver, anger/compassion
Fire – summer, south, expansion, Heart, manic/love
Earth – late summer, centre, balance, Digestion System, worry/thoughtful
Metal – autumn, west, contraction, Lungs, grief/confidence
Dates:
January 19th, 26th – Water Energy
February 2th, 9th, 16th, (23th No Class) – Wood (Tree) Energy
March 2nd, 9th, 16th, 23rd, 30th – Wood (Tree) Energy
April 6th – Wood (Tree) Energy
IN PERSON CLASSES – AUTUMN TERM 2022
Qi Gong will be starting again on Wednesday 5th October 6.30pm to 7.30pm at the St. Agnes MMI. More details will be announced August/September.
Book directly with Dave on 07791 042260
ONLINE ZOOM CLASSES
New Zoom class will start each Tuesday from the 4th October 2022 at 10.00 am for 1 hour. £8 per person per class.
To join a Zoom class, contact Dave via email and he will send you the Zoom link and payment details. If you haven't used Zoom before, you will need to open an account and download the software or App that is suitable for your device. Once you have made an account, you can use the link Dave has sent you to join the class. You will have to switch on your video and audio on to participate. Any questions, please contact Dave.
ONE DAY WORKSHOPS
No workshops planned at the moment due to the pandemic. Hopefully Dave can start providing Qi Gong, Do-In & Macrobiotic workshops in the near future.
---
Nice to start Qigong with warm up exercises and self-massage. Just by itself, it's a good start of the day!
Dave performing the Iron Bridge Qigong exercise, which allows the flow of energy (Qi) through the body. Useful for the spinal and back issues, neck tension, moves the cerebral-spinal fluid, recharges the Kidney Qi, connects you to the Earthly and Heavenly Forces.
This next video is the 6 Qi Gong Exercises, which has some of the dynamics of Tai Chi. If you look on Dave's YouTube channel all 6 exercises are performed singly to aid practice.
Disclaimer: Due to the Advertising Standards Authority strict stance on the claims made by therapists that has not been thoroughly tested by scientific peer-reviewed double-blinded random controlled trials, many of the therapeutic claims made on this website is anecdotal.